Summary
Located in the heart of Florida's capital city, the Midtown Tallahassee district is a popular destination for locals and visitors alike, with its mix of historic charm, walkability, and plenty of unique shopping and dining experiences.
Eclectic, historic, artistic – these are just a few of the words that come to mind when describing Tallahassee's Midtown district. Located in the heart of Florida's capital city, this area of town is a popular destination for locals and visitors alike, with its mix of historic charm, walkability, and plenty of unique shopping and dining experiences.
This is the third blog in our series, Get to Know the Local Community, where we explore what Tallahassee residents love about the area they live in. Click the links if you're interested in learning more about previously published posts on Northeast and Northwest Tallahassee.
What Residents Love about Midtown Tallahassee
As the name suggests, Midtown is truly in the middle of it all. From this area, the rest of the city is a quick 10-minute drive away, making it a popular meeting place for business lunches, happy hours, coffee stops, and everything in between! Here are just a few of the reasons residents love the Midtown lifestyle: 

Walkability: When you live in Midtown, everything is truly at your doorstep. There are sidewalks that connect the neighborhoods to shopping districts. So, it's not surprising to see people walking or riding their bike home with a bag of groceries under one arm; particularly in the fall when the weather cools off. If you're looking for a "city living" experience, Midtown is an excellent option to consider!

Where Old Meets New: Unlike the typical master-planned communities you often see today, Midtown is an area of town that has continued to evolve since the turn of the 20th century; meaning old, historic homes and structures sit next to modern townhomes that are seamlessly tied together with landscaping and north Florida's lush, natural foliage. This diversity in architecture lends itself to diversity in the residents. It's where artists and lawyers, old-timers and newcomers all come together as a tight-knit community.

Plenty of Entertainment: Sleepy suburbs, step aside! Midtown is a place that exemplifies entertainment. Home to the Young Actors Theatre, Fire Betty's Arcade Bar, and the iconic Tiki bar, Waterworks, to name a few, you won't have to look far to keep folks of every age entertained.
Popular Midtown Restaurants
There are just too many delicious options to list them all, but a few of the longtime Midtown staples include:
Midtown Bars & Coffee Shops
From the laid-back and low-key Over Under Bar & Lounge to the Instagrammable VinoBeano, there are plenty of options for libations in the Midtown area. For more late-night locations, check out our post featuring Midtown Bars. 
And if you need a little pick-me-up, there's plenty of caffeine to keep you going. RedEye Coffee is located in the heart of Midtown. With its expansive indoor and outdoor seating options, is a popular spot for morning business meetings and late-night study sessions. For a quieter setting, try Lucky Goat, located on North Monroe, which has low lighting and cozy 2-person seating. 
Midtown Parks
While the area is most known for Lake Ella Park, which features a .8-mile walking path around the lake, there are plenty of pocket parks sprinkled throughout the community. This means no matter what neighborhood you're in, there's a bit of nature right around the corner.
Lafayette Park includes a fitness trail, tennis courts, a basketball court, and a playground. 
Visitors of the Los Robles neighborhood will be impressed with the grand entrance. The subdivision was one of Tallahassee's first planned communities back in 1926. More recently, it was placed on the National Register of Historic Places. With rolling hills and Mediterranean-style houses, a walk through the neighborhood is beautiful in itself. However, the Los Robles Park, located within the neighborhood, is the perfect place to walk your dog, or just soak up the Florida sunshine under the oak trees on a warm summer day. 
If kids are in tow, Winthrop Park is a great option with 13 acres to explore, including a baseball field, soccer field, tennis courts, and a large, shaded playground. 
Midtown Shopping
The Midtown area is known for its more upscale shopping options, including chic, locally-owned boutiques and national chains, like Lululemon. For weekly grocery runs, most residents head to the Whole Foods Market, just off Thomasville Road. And don't forget about Fido! There's a Hollywood Feed pet store that will have everything you need to keep your 4-legged friend's tail wagging. 
Midtown Neighborhoods
Betton Hills
Betton Hills, a charming and highly sought-after neighborhood, is situated in the heart of Tallahassee, Florida's vibrant Midtown area. This delightful residential enclave enjoys a prime location, sandwiched between the bustling thoroughfares of Thomasville Road and Centerville Road.
Betton Hills showcases the best of both worlds – a peaceful oasis that remains well-connected to the vibrant tapestry of life in Tallahassee. With its tree-lined streets, welcoming parks, and a sense of community that's hard to find elsewhere, it's no wonder that this neighborhood is a top choice for those seeking a balance between city living and suburban charm in the heart of Florida's capital.
Glendale
Glendale is a highly desirable neighborhood that effortlessly combines urban convenience with natural beauty. Its residents benefit from a well-rounded lifestyle. They can savor the best of both worlds – the vibrancy of Tallahassee's midtown district and the tranquil serenity of a garden-like neighborhood. 
Glendale stands as a testament to the allure of Tallahassee, Florida, offering a remarkable living experience that appeals to those seeking a harmonious blend of modern living and natural splendor.
Los Robles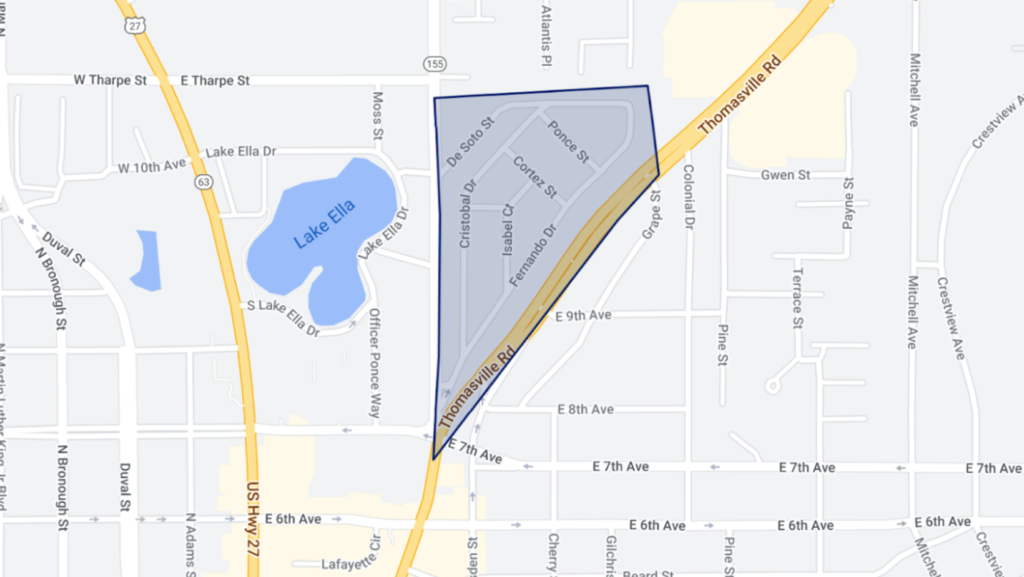 The historic Los Robles Tallahassee neighborhood is located in the heart of Tallahassee, Florida. Because of its old-world charm and easy access to downtown, homes rarely go on the market, and when they do, they sell quickly! 
Waverly Hills
Waverly Hills, once a sprawling 400-acre hunting and fishing plantation rich in history and natural beauty, has evolved into a vibrant residential neighborhood. Here, residents immerse themselves in enchanting surroundings, where towering live oak trees adorned with Spanish moss create a serene canopy, babbling streams provide a soothing soundtrack, and Waverly Pond, a striking water feature at the entrance, beckons with its gazebo, porch swing, and picturesque bridge.
This community thrives on a strong sense of togetherness fostered by an active homeowners association. Throughout the year, residents come together for potluck dinners, ice cream socials, and occasional movie nights under the stars, nurturing bonds and camaraderie. Additionally, Waverly Hills boasts a charming Little Free Library. Neighbors share books using the honor system, exemplifying the spirit of generosity in this picturesque, Southern-inspired neighborhood.
---
Keep in mind other neighborhoods in Midtown Tallahassee were not included in this list. For more specific details on house listings and neighborhoods, you should speak with a Real Estate agent. Coldwell Banker Hartung is a Tallahassee-based Real Estate agency that has been in business for more than 40 years. Their knowledgeable agents can assist you in finding your next home in Midtown Tallahassee and surrounding areas. You can visit their website for more information. 
Zip Codes
The zip codes that Midtown Tallahassee primarily consists of are: 32303, 32308, and 32312.
Please note that this is not an exhaustive list and that some zip codes within the Midtown area might be missing. If you have a specific location in mind, verifying the correct zip code with an official source is always a good idea.
Schools in Midtown
Listed below are some of the public schools that reside in Midtown Tallahassee. Please be aware that your children may be zoned for a school that is not in Midtown depending on the neighborhood in which you live. You can verify the schools in your zone on the Leon County Schools website.  
Elementary Schools
Kate Sullivan Elementary
Ruediger Elementary
Middle Schools
Augusta Raa Middle School
High Schools
Of note, there are a number of private schools located in the Midtown area as well, including Betton Hills School, Christ Classical Academy, and Betton Hills Preparatory School, among others. 
---
In conclusion, Midtown offers a wide range of benefits and experiences for residents and visitors alike. The area is a vibrant and diverse district with a strong sense of community and a variety of shops, restaurants, and entertainment options. Whether you're looking for history, culture, or just a great place to shop and eat, Midtown has plenty to offer!
Looking for more information about what it's like to live in Tallahassee? Check out our previously published posts on Northeast and Northwest Tallahassee.