Gyms, studios and fitness centers in Tallahassee, Florida
It's that time of year when people are making resolutions, and for many, those resolutions include joining a gym to stay healthy and in shape. Luckily, Tallahassee has a number of options for everyone at every level. So no matter what your goals are in 2021, you're sure to find the perfect "fit" from the list below. See what we did there? 😉
*** NOTE *** Due to COVID-19, the majority of Tallahassee gyms and fitness centers have implemented social distancing measures and enhanced cleaning protocols to ensure a safe experience for all members. If you have questions or concerns, we recommend calling the gym directly for more information.
Traditional Gyms
There are a variety of reasons for choosing a traditional gym. The selection of equipment tends to be very broad, which can accommodate multiple fitness levels. Additionally, it can be less intimidating to gym newcomers than a group class, because you can workout on your own. Luckily, Tallahassee has a number of traditional gyms, located across the city. So no matter where you live or work, there's sure to be something convenient nearby.
Seminole Strength and Conditioning owners, Jeremy and Shelly Hoornstra, are both lifting professionals with competition backgrounds. Offering bootcamps, workout planning, competition preparation, and nutrition guides, this gym is so much more than just a place to use the squat rack. A complete lifestyle of health and wellness is offered with your membership at Seminole Strength and Conditioning!
3944 NW Passage
(352) 504-5567
Capital City Barbell opened in Tallahassee in 2015 with the goal of providing a serious training atmosphere for anyone seeking to become stronger. Equipped with a surplus of all the tools needed to work on strength, Capital City Barbell also offers classes and one-on-one training for all levels. Surround yourself with those who share your mindset and passion, and join the community of powerlifters to train side-by-side with
1416 W Tennessee St
(850) 464-0888
There are 3 Planet Fitness locations in Tallahassee – on North Monroe Street, Capital City SE, and Paul Russell Road. Planet Fitness is perfect for "gym newbies". They pride themselves on creating an environment that is welcoming to all. Their "Judgement Free Zone" motto and rules that prohibit the slamming of weights, wearing string muscle tanks, and loud grunting during exercises, help to maintain a positive experience for everyone.
One of the main reasons members love this Tallahassee gym is because most locations offer 24/7 hour access. It's perfect for busy schedules.
Locations & Contact
1925 N Monroe St
(850) 329-6091
1212 Capital Cir SE
(850) 597-7375
110 Paul Russell Rd
(850) 692-3240
Youfit Health Clubs has 2 Tallahassee locations; one on North Monroe in northwest Tallahassee, and the other on Mahan Drive in the northeast side of town. YouFit is very similar to Planet Fitness when it comes to price and environment. The main differentiator is that Youfit has a strong focus on group classes, senior classes (called SilverSneakers). Many locations also offer childcare, as well.
Locations & Contact
2432 N Monroe St
(850) 354-6391
3111 Mahan Dr #12
(850) 354-6408
Anytime Fitness is a 24/7 gym with 3 locations in Tallahassee – on North Monroe Street, Apalachee Parkway and Mahan Drive. While they offer all the traditional gym equipment within their facility, what makes them special is the coaching on staff who are there to help members reach their fitness goals. This includes not just exercise plans, but nutrition plans as well.
Locations & Contact
1940 N Monroe St
(850) 561-1348
3219 Apalachee Pkwy
(850) 671-2225
6615 Mahan Dr
(850) 385-2348
Premier Health & Fitness is owned by Tallahassee Memorial Healthcare, a private, not-for-profit community healthcare system founded in 1948. However, anyone can become a member of this all-inclusive fitness center. Amenities include 2 heated lap pools, a sauna, childcare, a full-sized basketball court, and a massage therapy suite. As a full-service gym, Premier has won a number of local and even national awards.
1300 Miccosukee Rd
(850) 431-2348
Fitness Studios
A fitness studio is generally viewed as a smaller gym that focuses more on group exercise and specializes in one or two areas of fitness. Sometimes, they are called boutique studios. Because of the specialization these studios offer, it's easy to find the perfect fit for the type of athletic activities you enjoy. Below are a few of the fitness studios located here in Tallahassee.
At the Momentum Fitness gym in Tallahassee, the owners have been in the fitness industry for over 30 years! As local residents, they not only know Tallahassee but understand the ins and outs of the health club business. Momentum goes above and beyond the basics by offering multiple studio experiences under one roof. Members enjoy access to a large, traditional-style health club with state-of-the-art cardio and strength training equipment. Plus, gym-goers can opt into a membership that includes access to group classes like yoga and pilates. Lastly, one-on-one training sessions are also available, for a truly personalized approach to training.
2695-D Capital Circle NE
850-583-8472
There are two Orangetheory locations in Tallahassee; on Thomasville Road and another on Village Square Blvd. Orangetheory provides a total body circuit workout, which includes the treadmill, rowing machine, and floor work with dumbbells and resistance bands. Participants use a heart rate monitor during class to monitor calories burned during each segment of the workout.
Locations & Contact
1321 Thomasville Rd # 1
(850) 210-0503
1400 Village Square Blvd Suite 26
(850) 895-9683
Sweat Therapy Fitness is a locally owned Tallahassee gym and they take pride in the personalized attention they provide to their clients. In fact, class sizes are never more than 20. This ensures each member is getting the attention needed for every part of their workout experience. Conveniently located in Midtown, one perk of this Tallahassee gym is their luxurious locker rooms, with spacious showers, towel service, and hair dryers.
1122 Thomasville Rd
(850) 222-1781
For those unfamiliar with "barre", a barre class is a workout technique inspired by elements of ballet, yoga, and Pilates. At Pure Barre, a boutique fitness studio in Tallahassee, members can choose from 4 class types: Foundations, Classic, Pure Empower and Pure Reform. Class participants can expect an effective total-body barre workout focused on low impact, high-intensity movements that lift and tone muscles and improve strength, agility, and flexibility for everybody. There are 2 Pure Barre locations in Tallahassee; Thomasville Rd, and Governor's Square Blvd.
Locations & Contact
3425 Thomasville Rd
(850) 629-4123
1594 Governors Square Blvd Suite 18
(850) 942-0030
Drip Drop Fitness is also a locally owned boutique fitness studio in Tallahassee. The majority of their classes focus on high intensity, dance cardio, and toning movements. You'll have so much fun, it'll replace your happy hour! But don't worry if you have two left feet. It's more about getting out there and moving until you're dripping, than the perfect dance form.
307 N Adams St.
(850) 792-7333
At Queen of Hearts, members will learn how to get an amazing full-body workout using… a pole! Their New Client Intro Program teaches visitors the foundations when it comes to this unique workout artform. In addition to their workout class offerings, they offer private parties. This offering is perfect for bachelorette parties, birthday parties, or a sexy and athletic girls' night out.
1318 N Monroe St Ste F
(850) 270-9347
Group Classes & Bootcamps
For fitness lovers looking for high-intensity training, with a mix of cardio and strength training, but without the hefty price tag of a personal trainer, a boot camp or group training class may be the perfect fit. There are a number of Tallahassee gyms that offer these types of classes. Check out a few of the options below.
At Top Dog Fitness gym in Tallahassee, you will train like you never have before! A private, member's only fitness center, this gym focuses on the college demographic and more specifically, women's training. Workouts are written up daily and follow a circuit, where participants may hop in at their choosing. If classes are preferred, Top Dog offers classes every 30 minutes, 7 days a week. Both trainers and dogs (yes, dogs!) roam around the studio to help with any and every need.
624 W Tennessee St, Tallahassee, FL
(315) 593-4804
Empire Fitness is owned and operated by LaBarron Smith. He's a personal trainer and retired FSU football player. LB has over 20 years of experience when it comes to the world of fitness. Besides competing at the college football level, LB has also participated in and placed in bodybuilding competitions, tough mudders, and other athletic endeavors around the state of Florida. LB's Bootcamps uses HIGH INTENSITY INTERVAL TRAINING (H.I.I.T) to get members in the best shape of their lives. Additionally, many of his programs include guidance with nutrition and meal planning (including vegetarian and vegan options).
2624 W. Tennessee St.
(850) 212-4193
If you're looking to get in shape but can't spend hours in the gym, then Fuel Fitness might be the right fit for you! At this Tallahassee gym, they offer 30 minute HIIT workout programs at convenient times to accommodate your busy schedule. Their camps are in a group setting, which helps increase motivation and creates a fun-loving family atmosphere of group accountability.
3840 North Monroe St.
850-553-1780
Kaos understands how hard it can be to walk in a new gym for the first time. As such, they offer a wide variety of services and help people of many different ages and fitness levels. Members can choose from a range of classes, including Group Training (Weights and Cardio mixed), High-intensity group training (Heart rate to the max), and Pure Strength group training (Builds full-body functional strength). One thing that sets Kaos apart is that they also offer kids fitness and speed/agility classes for the little athlete in your life.
2755 Powermill Ct. Suite B
850-459-6082
For those looking to burn calories as quickly as possible, look no further than F45. They aim to burn up to 750 calories per 45-minute session! In addition to their HIIT classes, F45 also offers members access to their own free personal nutrition program to achieve health objectives with daily meal plans, tracking, and community support.
1309 Thomasville Rd.
(850) 765-9723
D1 Training was founded by former NFL athlete, Will Bartholomew, who was injured during a non-contact drill with the Denver Broncos. Although his career was sidelined, he wanted to continue to train like a Division 1 athlete but at the time, there were few offerings available other than traditional "box" gyms… and with that, D-1 Training was born! At D-1 training, every workout follows a strategic, 8-week training cycle that is backed by sports science. There are no fads and no gimmicks; all workouts follow the same, tried & true pattern including a dynamic warm up, performance, strength training, core & conditioning and a cool down, which lead to maximum performance and Division-1 level results.
1706 Capital Circle NE
Suite #8
(850) 407-2658
CrossFit Gyms in Tallahassee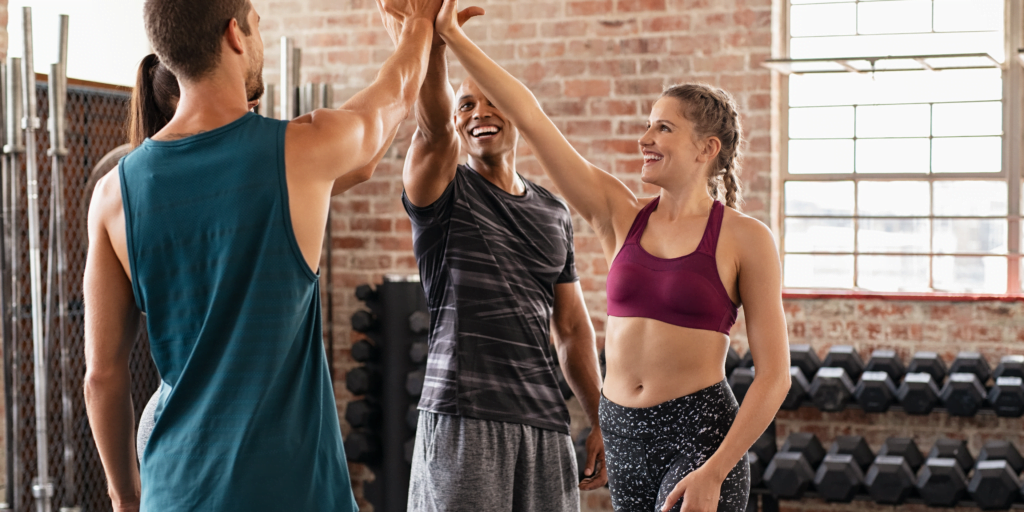 CrossFit is promoted as a physical exercise and a lifestyle. It includes elements of high-intensity interval training, Olympic weightlifting, plyometrics, powerlifting, gymnastics, and other exercises. Similar to other gyms like OrangeTheory, individuals complete daily workouts (aka "WODs" or "Workouts of the Day"). Below you'll find information on CrossFit gyms in Tallahassee.
Red Hills CrossFit is made up of athletes at every level who all have the same goal: to live a healthier life. Whether you have CrossFit experience or are finally making that decision to take charge of your health, Red Hills can help you on your journey. With Workouts of the Day (WODs) which are scalable for everyone, along with optional Private Training Sessions and Accessory Programs, members become stronger and healthier at a pace designed for them.
3185 Capital Cir NE, Tallahassee, FL
(850) 728-3124
Coach Greg is the OG of the Tallahassee CrossFit community! He started the very first CrossFit gym (aptly named CrossFit Tallahassee) back in 2009. Over the years, the gym has grown and expanded. But the one thing that's stayed the same in the high-quality training every member receives. Greg prides himself on having "all the fun toys" at his gym, including 40' rig, 8 GHDs, beaucoup rings; both high and low even strongman (and woman!) equipment. You'll have everything you need to be successful at CrossFit Tallahassee.
504 Capital Cir SE, Tallahassee, FL
(850) 566-3269
---
There are a number of additional gyms and fitness studios located in the Tallahassee area. If we missed one of your favorite workout locations, send an email along with a picture to info@choosetallahassee.com, as we make updates to our blogs and website content on a regular basis!
For an alternative to gyms in Tallahassee, If you're looking for local yoga studios check out Rising Om, HotWorx, or Journeys in Yoga.
In addition to the indoor fitness options listed above, Tallahassee is also known for its numerous parks and trail systems. In fact, many locals lovingly refer to the capital city as Trailahassee! If you're looking for places to go on a hike, run, or bike ride, be sure to check out our Tallahassee Parks page. Or if yoga is more your style, be sure to check out our post about yoga studios in Tallahassee.